Get Most Out of Your Destination Wedding in Amritsar with Sadda Pind
Posted Date: 12-10-2022
Posted By: Sadda Pind
Introduction Destination Wedding: A Dream Come True
Got engaged and want a themed wedding? Then, nothing can beat a destination wedding in Amritsar. As for many couples, a destination wedding in Punjab is a dream come true.
A destination wedding is a wedding that is held in a location that is away from your (the couple's) home. If you are considering a destination wedding, you might be wondering why you should choose this option over a traditional wedding.
Destination weddings are becoming more and more popular because they offer several advantages over traditional wedding venues. There are many reasons to consider a destination wedding including the ability to save money, the opportunity to have a unique wedding and the chance to spend time with your guests in a beautiful setting.
Now, you want everything to be perfect and that includes your destination. So, Amritsar is a popular destination for weddings, due to its rich culture and history. If you are looking for a breathtaking destination for your wedding, Amritsar should be on your list.
And, one of the most-pre
ferred and best wedding venues in Amritsar-the all new Sadda Pind is always ready to serve you the best-ever services to make your special day an unforgettable one.
We Help You Organize Every Ceremony and Make it Memorable
Whether it is about choosing one of the best pre-wedding locations in Punjab or organizing a-z ceremonies for your wedding, we have a solution for all your desires. Let's take a look at what you can get formulated at Sadda Pind:
Pre-Wedding Shoot-In a Traditional Punjabi Village-Like Culture with Punjabi Accessories
A pre-wedding shoot takes place before the wedding day and it is in your hands to pose for the best and most memorable moments. Not only do you get to capture the happy junctures in all their glory, but you also get to understand each other better while immersing in love and joy.
Location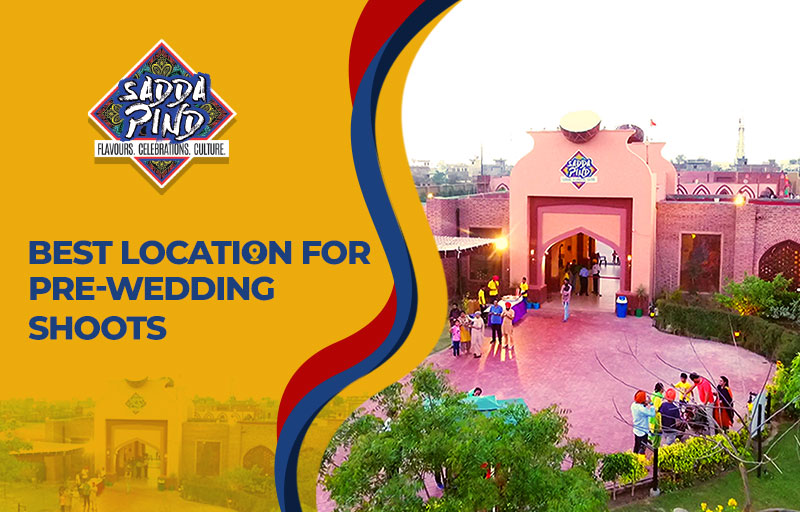 Sadda Pind has been immersed as the best location for pre-wedding shoots. At Sadda Pind, there are various locations that you can consider for your pre-wedding photoshoot or photoshoot. The Farmer's house, the swings, the old look of the kitchen, and a few essentials like Charkha, Paranda, Phulkari, camel ride, etc. are some of the perfect places and items to get your shoot done before your destination wedding in Punjab.
Look of 'Ms to Mrs':
Not to miss, if you are the bride-to-be then try wearing the traditional 'lucky jutti' complementing it with a full retro look of a desi Punjabi bride wearing a Punjabi suit, phulkari, paranda, etc.
What About Bridegroom?:
If you are a groom-to-be, then the Punjabi khussa is a traditional Punjabi shoe type, with Punjabi accessories like Taweet (traditional golden necklace 'haar' worn in Punjab), holding a daang (long wooden stick) in hand accompanied with a desi look in kurta pyjama.
Mehndi-Fun-eccentric Ceremony with Mela Vibes
Mehndi ceremony is one of the musts that a girl wishes for. It is another traditional yet exciting pre-wedding ceremony that you can perform at Sadda Pind while having your destination wedding in Amritsar.
Mehndi Tradition: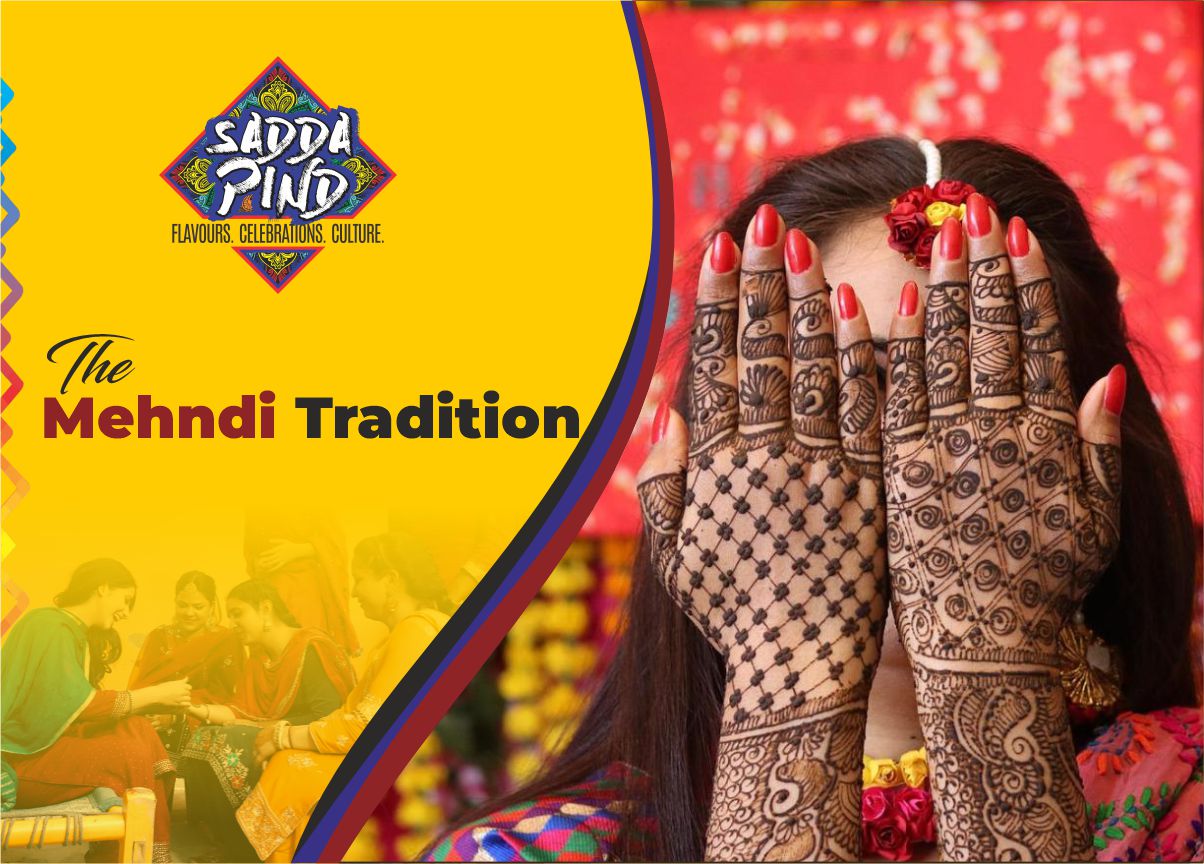 Making this ceremony of yours the best is our goal by providing a magnificent set-up for your composition of guests. Our expert mehndi artists will paint mehndi on your hands and feet as per your demand and the design you want.
To add an extra dose of fun, colour, and whimsy to your mehndi function, we have everything to let you add a splash of entertainment for your guests. While you and your girly gang will be busy having the mehndi done, allow your guests to wallow in the full desi Punjabi mela-the fair set-up.
In such a setting, the kids would be enjoying a giant wheel and other swings while the elderly can partake in the fun activities, and games, and involve themselves in a great photoshoot at various village-like places using different things, viz.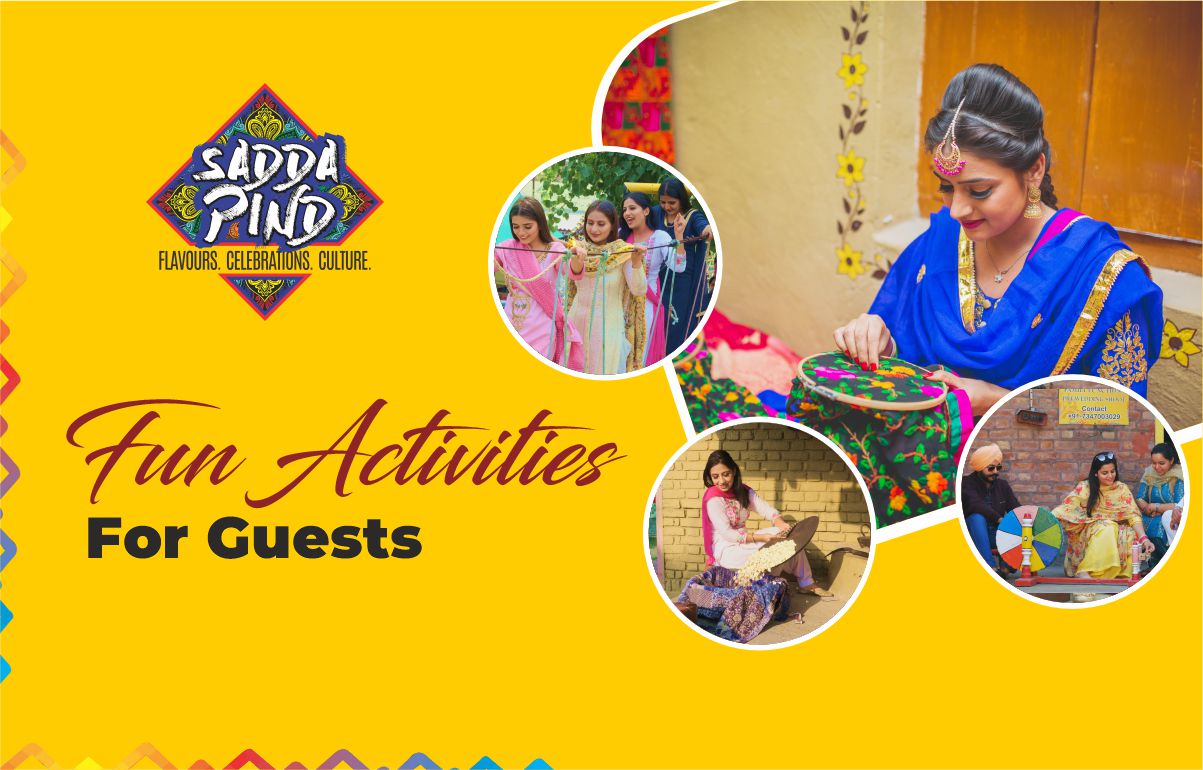 The typical farmer's house

Well

Phulkari

Paranda

Making popcorns

Charpai (the biggest cot)

Tractor

Charkha (spinning wheel)

Lassi making with Chaati

Dhaba-style eating, and more
Ladies Sangeet-Delve Everyone into the Wedding Revelries with Dholki Followed by Desi Food
You will find the nambardar house at Sadda Pind as the supreme location for organizing the premier dholki night aka ladies' sangeet function. The ceremony brimmed with the foot-tapping beats and peppy lyrics of old folk Punjabi wedding songs sung by the ladies is something you do not want to miss.
The set-up would be comfortably simple taking your guests' and your excitement to another level with nostalgic activities organized.
Dancing on the Dholki Beats
This is the night when you and your guest can get every minute of the function filled with fun & frolic. So, we ensure that you utilize every zeptosecond of your ceremony by welcoming the guests in a marvellous Punjabi theme, offering them a glass full of lassi along with dhols and bhangra & giddha dance and traditional Punjabi foods dipped in ghee and spices.
Tilak/Shagun/Chunni Ceremony-Give the Function a Rustic Yet Glamorous Look with earthy and 'exotic' Things of Punjab
This is the ceremony that is held a day before the wedding day. We have one of the specious and best wedding venues in Amritsar for your chunni or shagun ceremony.
The chunni ceremony is a symbolic gesture of the groom's mother and other relatives, who welcome her into the family. So, making it the indelible minute is a must when you have planned for a destination wedding.
Dazzling Decor
Setting up loud and vibrant decorations with guests and you both-the bride and the groom all decked up in the gorgeous Punjabi attires will allow you to get an ostentatious look for your shagun ceremony.
And, That's A Grand Entry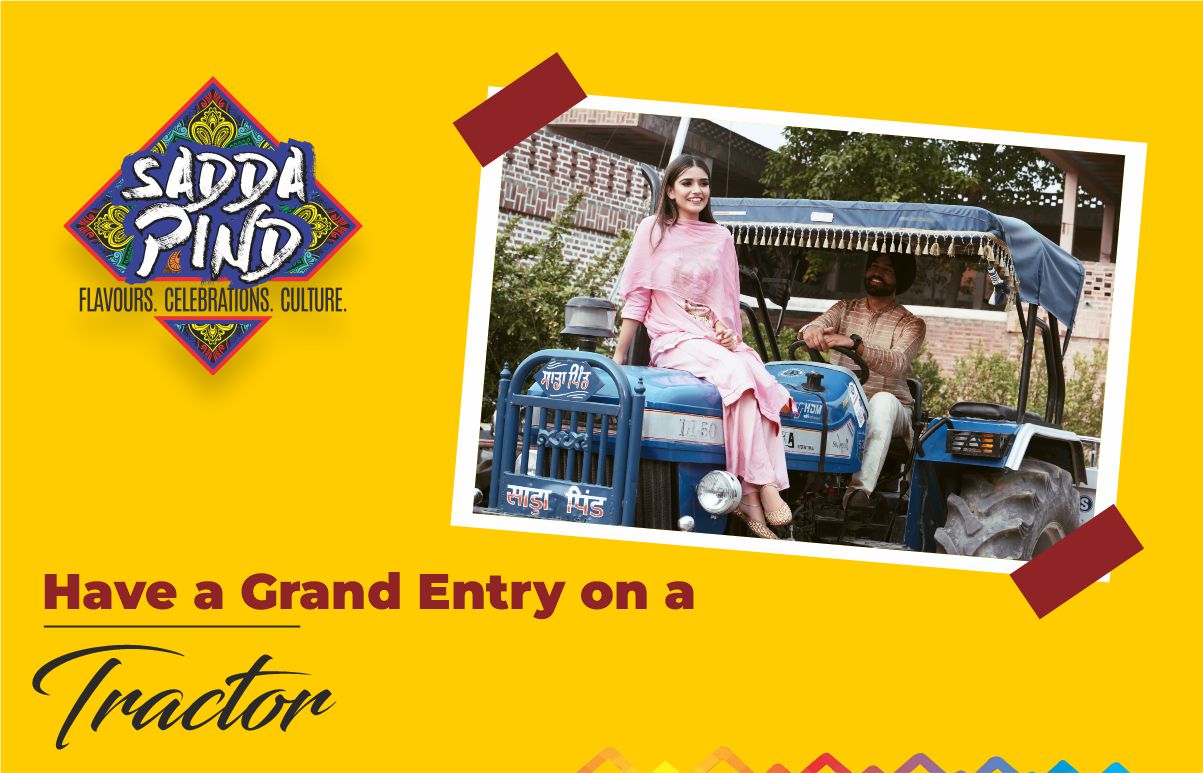 To make it more convincing, try making a grand entry on 'once Amritsar's famous' desi tonga cart (light carriage drawn by a horse) or even on a tractor and take away the limelight of your destination wedding in Amritsar.
Constant Punjabi Beats to Let Everyone Dance
The loop of Punjabi music along with dhol beats will add extra colour to the function.
Never Ending Buffet
Enjoy village-like food at the Punjabi-style restaurant at Sadda Pind that holds up a great taste to savour during your 'Shudh Desi Punjabi Wedding'.
Choorha Chadhana-To Boost Your Style Quotient
Enjoy your Choorha and Kalire Ceremony at your selected place at Sadda Pind's traditional Punjabi village look and give your ceremony an old & authentic appearance.
Do not miss to tinkle the kalire on the head of your sisters, brothers, cousins or friends who wish to get married soon.
Jaago-Make Your Wedding Even More Grand in Punjabi Style
Sadda Pind is a fantastic place to perform yet another traditional Punjabi ceremony 'Jaago' while wandering around the whole village inside 'Sadda Pind' and giving you an enriching & lively experience.
In this ceremony, your families will stay up all night singing Punjabi wedding songs and lighting a Diya.
Enjoy the party to the fullest by dancing and celebrating the Opulent Culture of Punjab.
Add that fun of stopping your neighbours (at Sadda Pind village-like culture) from sleeping and knocking on their doors and doing the other traditional things related to Jaago.
Dj Night-Grooving on the Stupendous Dhol Beats
Enjoy the DJ night after the shagun ceremony with your near and dear ones in the old-style wedding hall inside the Sadda Pind, if you prefer the indoor location. And, if you like to get your DJ party in an open area, we can serve that too.
Now, no matter how perfect your musical evenings and sangeet nights are. If the Destination wedding in Amritsar is set up in the traditional Punjabi style then not having dhol for the bhangra or gidha is something you're gonna regret as nothing can beat the dhol beats in a typical Punjabi culture style wedding.
The astounding dhol beats force you to shake your legs no matter if you know dancing or not and your age is just a number in that case. And, it is quintessential for both the groom and the bride squad to let them groove on your special day.
Haldi/Maiya/Vatna-Cleansing the Skin for an Exquisite D-Day Glow in a Traditional Decor
The vatna (Haldi) ceremony is also celebrated separately in the homes of the bride and groom, but since the destination wedding in Punjab has become a millennial rage, it is now often celebrated together. And, how about celebrating it with both the families at the open & well-settled area at Sadda Pind?
Just tell us how the decor you want to be, whether it is a floral wall backdrop with funky instalments at the entrance of the function area or quirky photo booths with colourful Haldi decorations and outdoor swings, we will get you covered and you & your guests will enjoy every fun moment while posing for the different themes.
Dressing Room-Getting Ready for the Most Momentous Day of Your Life
Getting ready for the gala day, coming in front of your spouse all dolled up like never before, is not only a girl's or a bride's dream but a groom's too. In that sense, we have separate and best wedding rooms i.e. the rooms for you-the wedding couple to let you get ready in a typical Punjabi village-like environment where you can feel every inch of a village-like culture in today's modern culture.
Laavan/Phere-Tying the Knots in an Insanely Beautiful Traditional Wedding
Now, as your special day arrives, you want everything to be perfectly set up. And, taking those vows in front of your family, close relatives and friends and wishing for a healthy and abundant life together is all you have dreamt for in your destination wedding in Amritsar.
And, our wedding location at Sadda Pind sets an ideal view for a pure Punjabi-style wedding where getting to the wedding venue on a traditional Doli, for the bride will be a dream come true like situation. Here, you will wed your spouse for never-ending love and relation, enjoy the wedding meal, and get your 'always refreshing' photoshoot.
Buffet Reception-Food for the Good Mood
This is the time of tasting some delicious food after every ceremony is held successfully. We organize the best buffet reception services for your guests.
You can have North Indian/ Mughlai, Italian/ European/ continental, Chinese/ Thai/ oriental, South Indian, Garlic Free/ Onion Free, Drinks (non-alcoholic) and other items as per your order and requirement at your wedding at one of the best wedding venues in Amritsar.
Why Is Sadda Pind an Ideal Destination Wedding Location?
Sadda Pind is a Punjabi culture-living village-based wedding resort located in Amritsar. It offers something new for everyone. Now, apart from reflecting an authentic village life of Punjab, it is one of the most preferred venues for planning destination weddings in Amritsar. With the assured commitment and world-class services on your best day, the team at Sadda Pind aims at redefining Punjabi culture and hospitality.
Here are a few reasons that make Sadda Pind the best place for your dream day:
Sadda Pind is considered the best place to host big fat Indian weddings, pre-wedding shoots & functions, grand receptions, and various other events.
FAQs
Q: Which of these vendors can Sadda Pind provide in-house?
A: 1. Catering
2. Decoration
3. DJ
Q: Which type of external vendors are allowed at Sadda Pind for destination weddings?
A: 1. Catering
2. Decoration
3. DJ
Q: Is a destination wedding cheaper than a normal wedding?
A: Yes. The destination wedding in Punjab is often considered the cheapest as compared to the traditional weddings as in the themed weddings, you invite only selected guests and not all of the guests manage to travel to far places. This ultimately reduces the other related costs.
Q: Is alcohol permitted at Sadda Pind?
A: No
Q: Which forms of payment does Sadda Pind accept

?
A: 1. Net Banking
2. Cash
3. Debit/ Credit Cards
4. UPI
Q: What is the best idea for a pre-wedding photo shoot?
A: If you are considering Punjab's Sadda Pind as the best location for a pre-wedding shoot, then posing in an authentic Punjabi culture look is one of the best ideas while using the Phulkari, Charkha as props. The traditional fields of Punjab at Sadda Pind give another option of being the best pre-wedding locations in Punjab.
Q: Is it rude to have a destination wedding?
A: Absolutely no. In traditional weddings, you tend to take care of your guest's preferences in various terms but when it comes to a destination wedding in Amritsar, you are preferring your D-day to be organized as per your desire and the venue of your choice.